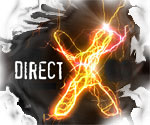 If you are patiently waiting for more details about the upcoming DirectX release, possibly DirectX 11.1 or 12, then we have some good news for you.
When asked to provide an update on DirectX 11 development in MSDN forums, Microsoft's Chuck Walbourn has revealed that the software giants plans to announce more details around the time of BUILD conference (September 13-16), previously known as Professional Developers Conference or PDC.
We have nothing to announce at this time. There should be more information available around the BUILD conference in September.
Stay tuned.