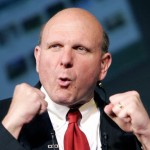 If the recent rumors that float around the markets are true, then Microsoft is considering purchasing Nokia cell phone for unit.
If everything goes as expected, deal should close by the end of 2011.
No further details are known.
NOKIA shares are up 3.5% at the time of writing.
Update: according to Eldar Murtazin: private negotiations will be starting next week as it is reported that both companies are in rush to finalize the deal as soon as possible.