Today is a good day as we have just received a great picture from Kirllos which was acquired by mega-d botnet.
Where is it from? According to email, it was borrowed from Gigabyte's corporate network.
Machine is running AMD FX 8110 processor with the maximum TDP of 95W @ 2.8 Ghz and Socket AMD3b 942 package. If you are wondering why it says 3.8 GHz as well, it's because o the AMD turbo boost.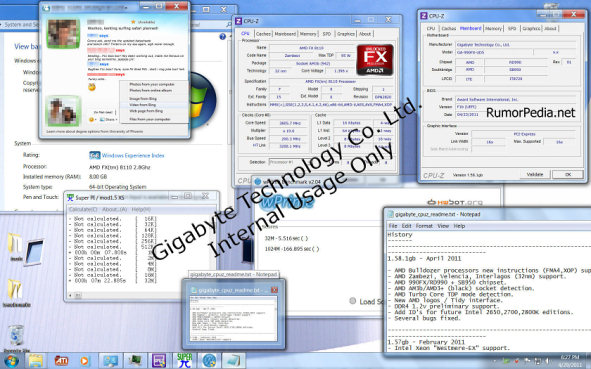 Click to enlarge.
According to the Gigabyte CPUZ History:
1.58.1gb – April 2011 update includes:
– AMD Bulldozer processor new instructions…
– AMD Zambezi, Valencia, Interlagos (32nm) support.
– AMD 990FX/RD990 + SB950 chipset.
– AMD AM3b/AMD+3 (black) socket detection.
– AMD Turbo Core TDP mode detection.
– NEW AMD logos / Tidy interface,
– DDR4 1.2v preliminary support.
– Add ID's for future Intel 2650, 2700, 2800k editions.
– Several bugs fixed.
Oh, it also has some benchmark numbers for you to check out.
As always, info is not confirmed by us and take it with a grain of salt.
Nevertheless, we thank Kirllos for the information!
Update:
Just to clarify few things:
It has few screenshtos merged together, hence the active windows.
MSN Chat talks about updated BIOS version which should fix readings.
DDR4 support changelog is not for AMD Bulldozer.
Update 2:
We have been contacted by GIGABYTE and they confirmed that the chat conversation and all the details are fake.
—-
On the other hand, who in the sane mind would say: yes, of course it's real. We leave this for You to decide. Fake or real?