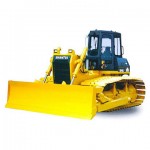 Launches a man with a shovel.
Back in old days, AMD has issued fake Barcelona CPU benchmark results to lure in some buyers. As we know, it did not turn out well for them.
Well, few years later and the history repeats itself, just check this AMD FX promotional video below:


Now, we did some digging and found out quite few interesting things. Here is a quote from the AMD ex employee himself, who posted few comments about the whole situation some time ago:
On paper bulldozer is a lovely chip. Bulldozer was on the drawing board (people were even working on it) even back when I was there. All I can say is that by the time you see silicon for sale, it will be a lot less impressive, both in its own terms and when compared to what Intel will be offering. (Because I have no faith AMD knows how to actually design chips anymore). I don't really want to reveal what I know about Bulldozer from my time at AMD.
What did happen is that management decided there SHOULD BE such cross-engineering ,which meant we had to stop hand-crafting our CPU designs and switch to an SoC design style. This results in giving up a lot of performance, chip area, and efficiency. The reason DEC Alphas were always much faster than anything else is they designed each transistor by hand. Intel and AMD had always done so at least for the critical parts of the chip. That changed before I left – they started to rely on synthesis tools, automatic place and route tools, etc. I had been in charge of our design flow in the years before I left, and I had tested these tools by asking the companies who sold them to design blocks (adders, multipliers, etc.) using their tools. I let them take as long as they wanted. They always came back to me with designs that were 20% bigger, and 20% slower than our hand-crafted designs, and which suffered from electromigration and other problems.

That is now how AMD designs chips. I'm sure it will turn out well for them [/sarcasm]
BTW, you ask how AMD could have competed? Well, for one thing, the could have leveraged K8 and the K8 team's success and design techniques instead of wasting years of time on a project that eventually got cancelled using people that had never achieved any success. It took Intel years to come out with Nehalem, and AMD could have been so far ahead by that point that they'd have enough money in the bank that they wouldn't have to accept a low-ball settlement offer in the antitrust suit and they wouldn't have to sell off their fabs.
Gives a totally different perspective on why Bulldozer failed, doesn't?
Stay tuned.