We have just received a photo of what sender claims to be an engineering sample of AMD Bulldozer (Zambezi) Quad Core processor benchmark score table.
Unfortunately, he/she asked not to publish the original photo (it also has other test score, but for some reason we cant show it (don't ask why)).
Anyway, here is 3D Mark Vantage CPU score chart (Sandy Bridge vs. Bulldozer)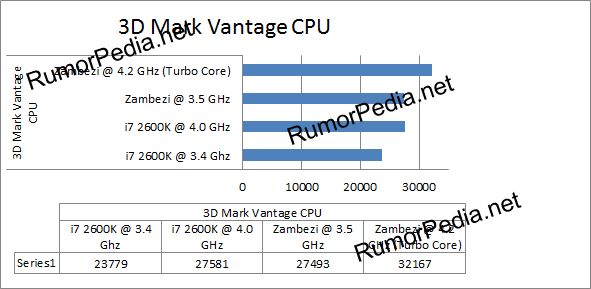 3.5 GHz Bulldozer matches 4.0 GHz Sandy Bridge.
We don't really care whether you believe benchmark results or not, as we just publish what we get our hands on. As always, a cat will die for every chart repost in forums, chats, etc.
Intel is screwed up until Ivy Bridge arrives.
As for other score, it's a power consumption test.