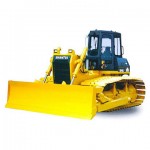 It looks like AMD will start producing its 8 core Bulldozer Desktop CPU's in April, 2011. According to sources, six and four core processors are to follow.
Furthermore, the very first engineering samples of Zambezi Bulldozer chips will be delivered to AMD partners in December, 2010. Expect some performance figures and leaks by then.
What does it all mean?

Remember when we said that Bulldozer may be released in early 2011? Well, don't start throwing rocks at us yet and here is why:
AMD always said that server platform will be the first one to enter CPU market. Therefore, if April, 2011 is when Desktop production starts, expect server chip to be released sometime earlier.
Now, before we wipe your tears of joy, keep in mind that production != (not equal, for those, not geeks) general availability.
That's it for now.
Source: XBitLabs